JOHN TITMAN
JOHN TITMAN, AN ICON OF AUSTRALIAN SPEEDWAY WITH A 20 YEAR RACING CAREER
John Titman, born Jan 26 1951, is arguably the greatest ever home grown Speedway rider ever produced in Queensland. With a career that began at the Brisbane Exhibition ground as a novice teenager in 1969 to at the height of his powers being the Australian Test Captain, Australian Champion and battling with the worlds best on the biggest stage of Speedway at the Wembley stadium for the 1978 World Final, John Titman has just about done it all.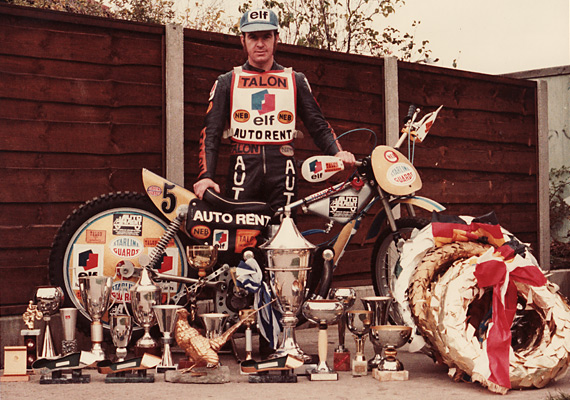 John, from humble beginnings in Hawthorne, Brisbane, was not the most gifted of riders, however, he possessed a major ingredient that makes a racer successful-grit and determination. From learning to ride at the iconic Brisbane "mudflats", now part of the Port of Brisbane where many dirt track, speedway and car racing stars began their days, John embarked on the local Queensland Speedway scene, making a name for himself racing at the weekly speedway events held at such venues as the Ekka Speedway in Brisbane, Ipswich Showground, Toowoomba Showgrounds and various towns, often heading north to Bundaberg, Maryborough, Rockhampton and beyond.
By 1972, it was time for Titman to stretch his wings and the first of 13 years of racing in the UK and Europe. Titman's first club and track was Halifax in the north of England. Unlike many Australian's who begin in the 2nd division in England and work their way up, John's tenacity did not allow for this, and in his first season he started in 1st division at reserve for Halifax.
By the mid 70's, Titman was making a name for himself as a star of British, Australian and World Speedway. By 1976 he was part of an all-conquering Exeter team which included the likes of Kiwi Legend Ivan Mauger and American Star Scott Autrey. The side would go on to take league titles. 1978 would become a stellar year for Titman, beginning in January by taking his first Australian Speedway Title at his home track the Brisbane Exhibition ground. John would then go on to captain and become heat leader of his new club, Leicestor Lions, a track and club he would grow very fond of as a home track specialist for many years. To put the icing on the cake, John qualified for the World Individual final at Wembley in 1978 finishing 8th place in his first attempt in front of some 90,000 fans. In 1979 John again qualified for the World Individual final, this time in Poland. A crowd of over 100,000 witnessed Ivan Mauger take the title and John finished in 9th place.
Not content with racing Speedway, John loved the fast speeds and large tracks, so he turned his hand to racing the sport of Longtrack Speedway racing which was hugely popular throughout France and Germany on weekends in the 1970's and 1980's. No Australian had ever come to grips with this sport, hugely dominated by the Germans. In 1983, John became the first Australian to ever qualify for the World Individual Longtrack title finishing in 10 place, a year later John again qualified for the title and had it not been for a broken chain whilst leading his 3rd ride, his eventual 8th place finish may well have been at the top of the podium.
Titman retired from British and European Speedway at the end of the 1984 and returned to Australia. However, his racing career was not finished. Titman continued to Captain the Australian side in all test matches in Australia over the coming 3 seasons. In this time John would become an even bigger household name in Australian Speedway, at this time free to air TV covered Speedway as a weekly show in summer time and Titman as Australia's captain became a cult hero. Just a couple of years earlier in the early 80's Titman had been named as an honorary Tourism ambassador for Queensland for his efforts in promoting the state whilst in Europe, racing across many countries. There was a triumphant and emotional test series win for Titman in the 1985-86 season when the famous Exhibition Speedway re-opened after being shut for some 4 years. Australia defeated England 2-1 in the test series with John captaining and top point scoring for the team over the series. It was after this series that John announced his retirement from Speedway in Australia. John made 1 more cameo appearance in America in 1986 for friend Ivan Mauger, who held a 2 test series in Los Angeles, America v the Rest of the World. John teamed up with fellow world legends including Hans Nielsen and the late Simon Wigg, to name a couple. John top scored for the World team at one of the 2 meetings, outscoring all his team mates and the American team, showing at 37 that he had lost none of his speed and skill.
Many around the world rate Titman as one of the true stalwarts of Australia Speedway, a man who carried supreme pride in captaining his country and wearing the Australian race jacket. Titman was a team man, always first to lend a hand to team mates. He was also a determined and self motivated individual proved by his efforts in Longtrack racing across Europe, although never capturing an individual world title, many would only dream of having an honour roll such as Titman's and most agree it will be along time before Queensland produce a rider the calibre and profile of Titman.
MEDIA FROM JOHN TITMAN'S CAREER
John's career spans 20 years of top level riding, starting back in 1969 as novice teenage Speedway Rider. These rare and unique collections of photos showcase John in his element racing around different worldclass tracks throughout Europe and Australia, including Speedway's pinnacle track at Wembley Stadium in England.
The 2008 Vintage Speedway Spectacular held by the VSAQ kindly allowed John to complete some demonstration laps on the day. 40 Years ago, John Titman debuted as a novice teenage Speedway Rider at the World Famous Brisbane Exhibition Speedway.
In the glory days of Speedway riding its popularity was reflected in the amount of television/media coverage it would receive and also through the shear number of crowds it use to attract (up to 100,000 spectators at Wembley Stadium). This link will take you to some feature racers that have been digitally captured and hosted on YouTube.
John regularly featured in different printed publications for his long list of achievements and as a general star attraction for upcoming Australian Speedway events. John also proudly took on the Honorary roll as an Ambassador for Queensland Sport & Tourism and greatly appreciated the Queensland Government's support and interest in his racing career.